Whether you are just getting started with your prep or will be testing soon, this LSAT study planner will help you make sure you're focusing your time well. The planner allows you to organize your study priorities, set goals for the month and week, track your progress, and stay motivated. 
Custom-made for LSAT. 
The planner covers up to 6 months of LSAT prep, with space to set initial goals, revisit your areas of focus and priorities as you go, and plan your months and weeks. You'll be prompted to check in with yourself regularly on your progress so you can do more of what's working and make adjustments when necessary.
The LSAT study planner gives you space to:
SET GOALS – Identify where you're starting and record your motivation for working hard.
PLAN – Set meaningful priorities and organize your study goals for your months and weeks.
REFLECT – Check in with yourself regularly to ask yourself what's working and what needs to change.
TRACK PROGRESS – See how far you've come, and celebrate your wins.
Sections:
Initial goal setting

Monthly planning pages

Weekly planning pages

Progress tracking (for practice tests, individual sections, and general study)

Reflection journal (to help you deal with the emotional and psychological aspect of the LSAT)

Space to organize your notes
The LSAT score you really want IS achievable. Let this study planner help you get there.
Details:
6×9 inch size

143 pages

Tips for effective LSAT study

6 months of monthly and weekly planning pages

Progress tracking sheets for prep tests, LR/LG/RC sections, and general studying

Reflection journal with 23 prompts

Notes pages for LR/LG/RC, lessons learned, and questions to ask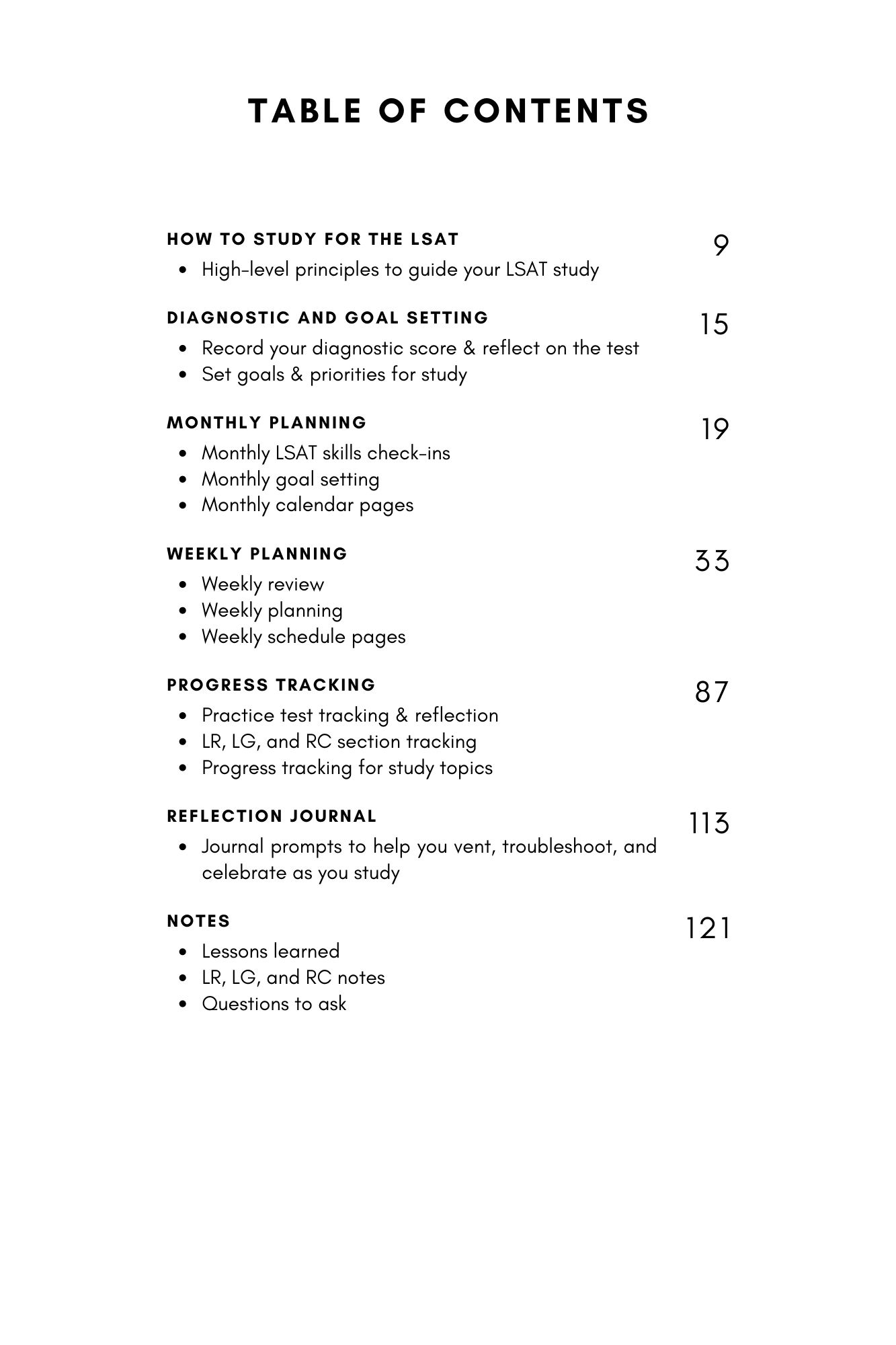 Look Inside the LSAT Study Planner
Click to Zoom in on any of the images below.